ATTENTION FREEDOM LOVERS WHO WANT TO IMPLEMENT THEIR PLAN B ESCAPE ROUTE
Finally! How To Live the Good Life in the Land of Your Dreams Without Drowning in the Sea of Useless Information! 
Claim Your $1 – 30-Day Trial Offer To Discover The Step-By-Step Blueprint To Easily Put Your Plan B Escape Route in Motion (Valued at $199)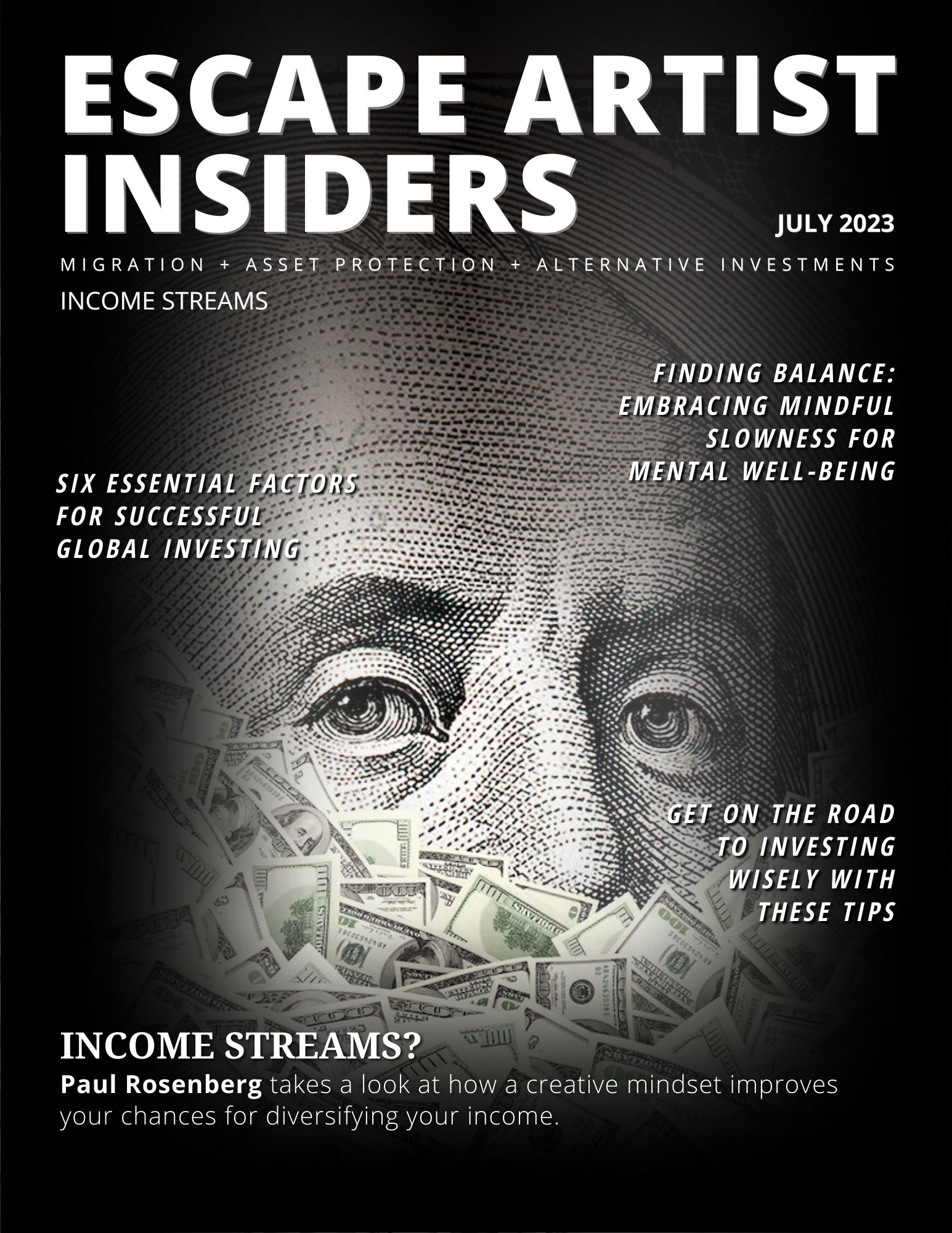 Finally… A Quick & Easy Way For You To
Get the Upfront, Inside Scoop On Where YOU Can Dream Big – And Live Large!
Are you sick of useless information written by someone living in a basement? Tired of not knowing where to start? Are you looking for ways to begin your international freedom lifestyle faster? At Escape Artist Insiders, we help freedom lovers live or retire offshore in the shortest time possible.
In the last 25 years, we've shown thousands of freedom lovers how to efficiently put an international strategy in place without years of hard work, trial, and error. We've achieved impressive results for ourselves and our clients and we can do the same for you, too.
Simply Follow Our Blueprint To Success &
You'll Avoid Drastic Mistakes In Your Offshore Lifestyle!
Moving to another country can be much easier than you think. Many people don't know the correct steps to take which makes them take far longer than they need to. We've done all the hard work for you, so all you need to do is follow our step-by-step blueprint, and you'll be packing your boxes in no time.
You won't just save time, either. When you follow our information closely, you also protect your assets better than you would ever be able to achieve on your own.
Here's A Brief Outline Of What We'll Uncover
In Your Edition of Escape Artist Insiders…
WARNING: You Could Be At Serious Risk Of Imprisonment
Are you doing anything to escape paying taxes? Bad idea! We'll show you why this is a HUGE mistake and how it leaves you open to being hunted down by the authorities. Stay on the right side of the IRS and the CRA.
The Proven Strategies We've Used To Help People Obtain Residency In Over 22 Countries
We'll reveal the bulletproof strategies we've used to help people find a Plan B residency that guarantees you an ironclad, foolproof escape route should the U.S. or Canadian economic and political landscapes continue to deteriorate and put you at risk.
The Devastating Mistakes Made By Setting Up Businesses Overseas
Nearly every person setting up a successful business overseas needs help to legally minimize their taxes, multiply their profits, and build a thriving business, without all the red tape, rules, restrictions, and regulations handcuffing small businesses in the U.S. and Canada.
Which Countries Welcome Foreigners With Open Arms
These strategies can help you increase freedom and offer special benefits that cut the cost of living, open new avenues of opportunity, and provide special incentives to homesteading expats.
The Old Myths & Downright Lies Told By The Offshore Industry
Many people still believe these old wives' tales and dirty lies told by the offshore industry—find out what they are so you can protect yourself.
You see, as an Escape Artist Insider, you'll get the upfront, inside track on not just where to live offshore… but how to live as well!
(Value $199)
40% Of Americans Will Never Leave the Country Without The Right Help
Sadly, 40% of Americans will never reach their international freedom dream lifestyle. It's not their fault; they just haven't been taught that you no longer need to be wealthy—or even well off—to live the good life offshore. It doesn't have to be this way for you, though.
We can show you exactly what we did to achieve our international lifestyles and how our clients live like a prince (or princess) on even a pauper's pittance… close to the white sand beach and far from the woke crowd—using the same strategies. Subscribe to Escape Artist Insiders today to see how you can achieve a similar result and do it much faster than you ever thought possible.
Save Yourself Years Of Costly Trial & Error By Using Our Blueprint To Implement YOUR Plan B Escape Route
Why waste years struggling along, trying to figure things out for yourself? You can save this time and get a much better result when you get our expert advice and use our blueprint to put your international freedom lifestyle in place. It's like a shortcut giving you a better life for half the price so you can hold onto your savings.
Are you ready to start your Plan B Escape Route in the shortest time possible? To have more money, freedom, and a better lifestyle without the years of hard work it usually takes? Then claim your $1 – 30-Day trial offer while you still can.
Here's Another Taste Of What You Can Expect
When You Claim YOUR $1 – 30-Day Trial Offer…
Tips to Legally Move Assets to an Offshore Location and What to Avoid
We reveal what's REALLY happening behind the scenes and why it seems so much harder to protect your assets in the current marketplace.
Central Bank Digital Currencies (CBDCs) The Scam Has Evolved
What you Should Know About CBDCs, a monetary reset coming via a central bank near you, and how you can survive the impending theft of your privacy.
All you need to know about offshore low-priced, high-quality healthcare that meets – or beats! – U.S. and Canadian standards
Without the hassle and with the kind of personal care U.S. Big Med long since left by the wayside instead of the bedside!
Where You Can Find Under-The-Radar Offshore Locations With Sky-High Future Investment Returns
This all-important piece of the puzzle is crucial to protecting your assets, and without it, you are doomed to failure—areas like Nicaragua, Paraguay, and El Salvador… countries that are quickly becoming like Belize in the 2000s or Costa Rica in the 1990s. And now, you can get in early!
What Never To Do When Moving To Another Country
Please, never EVER do this on your journey to expatriation unless you want to stay trapped for YEARS longer than you need to.
Your Escape Artist Insiders magazine gives you all the above options and opportunities—every single month—plus much, much more.
(Value $199)
Our Rock-Solid 100% Guarantee
 When you join us at Escape Artist Insiders, you can participate with confidence because you'll always be educated by the breadth and depth of our experts. If you don't feel like you get any value, simply cancel your subscription before your 30 days are up by contacting us here.
(Valued at $199)
In the pages of Escape Artist Insiders, our experts will discuss your specific situation and how we can help you with your Plan B Escape Route in the shortest time possible. 
Here's what you'll discover in your $1 – 30-day trial offer…
How to return to the unencumbered, affordable, fun-filled, and carefree lifestyle you once enjoyed…
In the pages of Escape Artist Insiders magazine, you'll learn how you can explore unlimited offshore options—and actually live like a millionaire…
Living off social security or a pension and barely getting by? Then maybe it's time to trade in your expensive insurance, property tax, and high cost of living in the U.S. and Canada for an offshore opulent lifestyle once only believed to be available to the super-rich!
This is ONLY for people serious about implementing their Plan B Escape Route in the shortest time possible. Become an Insider now to avoid disappointment and secure your future.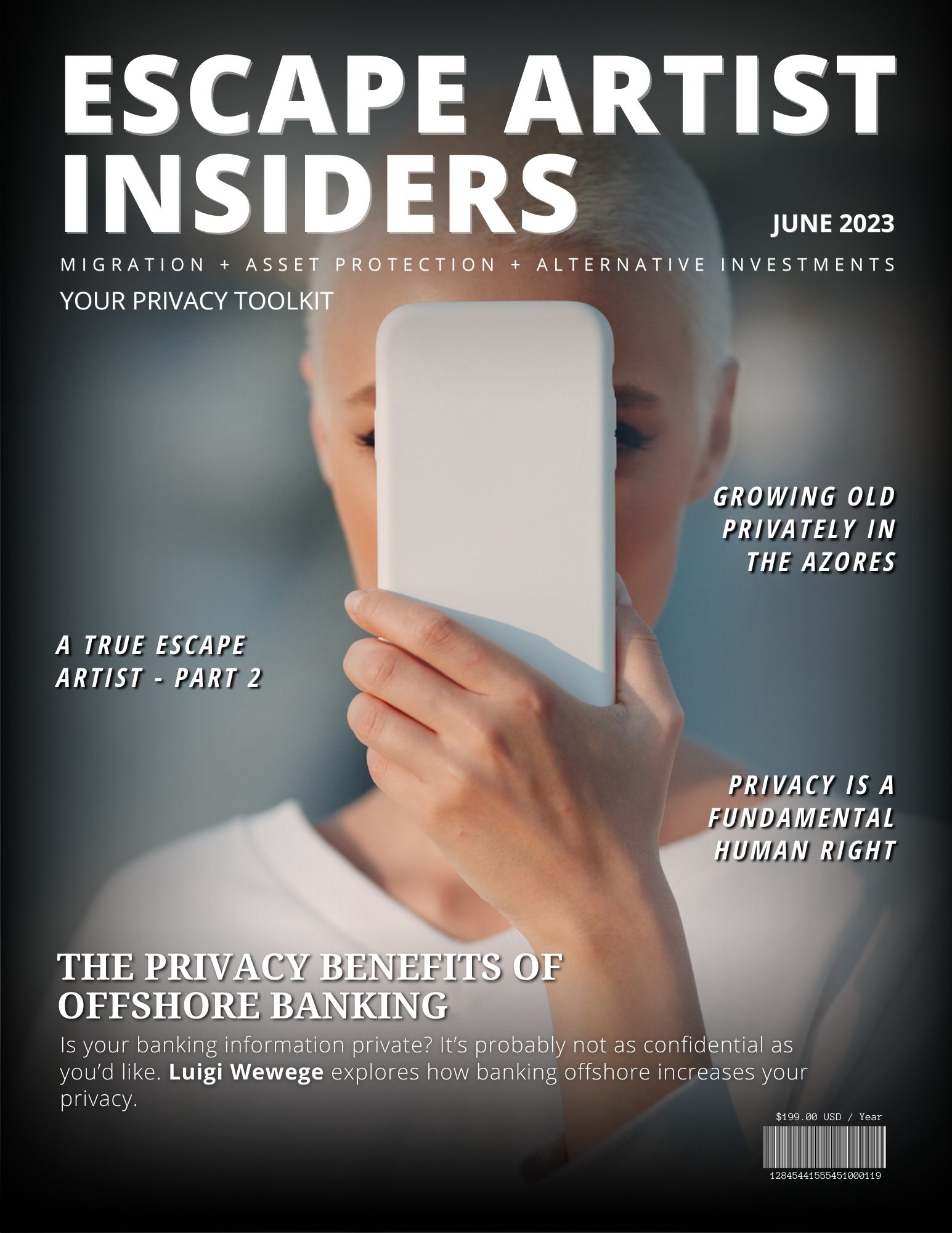 (Value $199)
Escape Artist Insiders magazine subscriptions are at an all-time high. Watch my video below explaining why.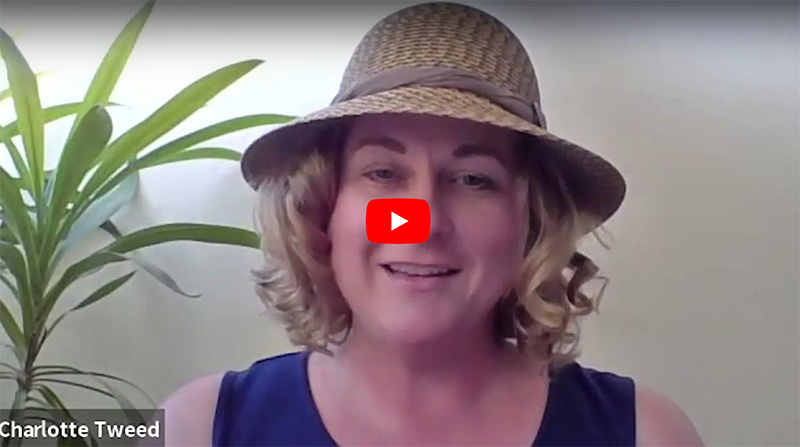 Sincerely,
Charlotte Tweed
Managing Editor, Escape Artist Insiders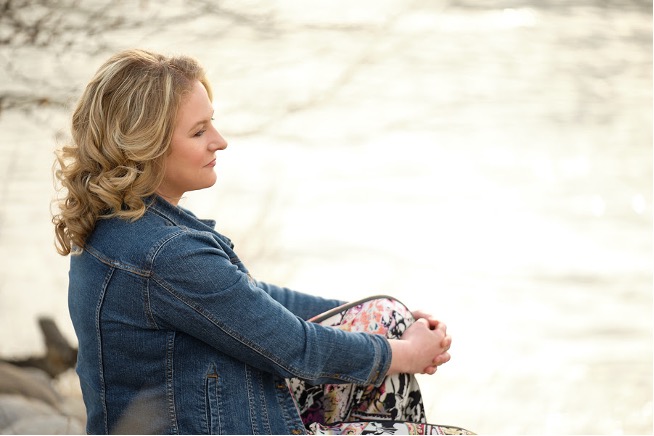 © 2023 All rights reserved EscapeArtist.com